Thomas A. Morton Named Top Pro Bono Attorney for 2013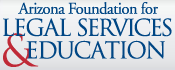 In a letter dated April 29, 2013, the Arizona Foundation for Legal Services & Education informed Thomas Morton that the Foundation had selected him as a 2013 recipient of the Top Pro Bono Attorneys in Arizona award.
The Foundation instituted the award to recognize attorneys who "have tirelessly given their time and expertise to assist Arizonans who would otherwise have no legal resources." The nomination for this award came from the Children's Law Center Volunteer Lawyer Program.
The Foundation plans to publicly announce Tom's award in the July/August issue of Arizona Attorney, the publication of record of the State Bar of Arizona.
Tom accepts pro bono juvenile court cases from the Children's Law Center, including guardianships, severances, and adoptions. He also accepts appointments as a family court advisor through the Children's Law Center