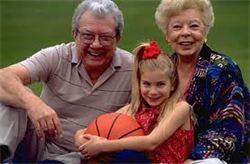 In certain situations, grandparents can establish legal rights to their grandchildren. Before establishing grandparents' visitation rights the court determines if a historical relationship exists and if there are any extenuating circumstances that must be taken into account. Tom provides grandparents with the information and legal representation they need to assert their rights. Since the court always places the interests of children first, grandparents should be prepared to prove in court the importance of establishing contact with their grandchildren.
Unfortunately, despite what seems reasonable and appropriate emotionally, the court must consider how children are affected and the relationship between parents and grandparents. If parents are estranged from grandparents, the court will determine whether or not visitation will be detrimental in the long run. Being a blood relative is not a sufficient legal reason to assert visitation rights. To learn more about your options and what you can do to secure your grandparents' visitation rights, contact Thomas A. Morton, Attorney today.
Understanding What the Court will Consider
Grandparents can assert their visitation rights under the following circumstances:
If the parents' marriage has been dissolved
If a parent is deceased
If the child is born out of wedlock
Of course, there are other considerations to take into account as well. However, it is important to realize that grandparents cannot simply assert their rights unconditionally. Appropriate, legally sanctioned action must be undertaken to establish visitation rights in the eyes of the court.